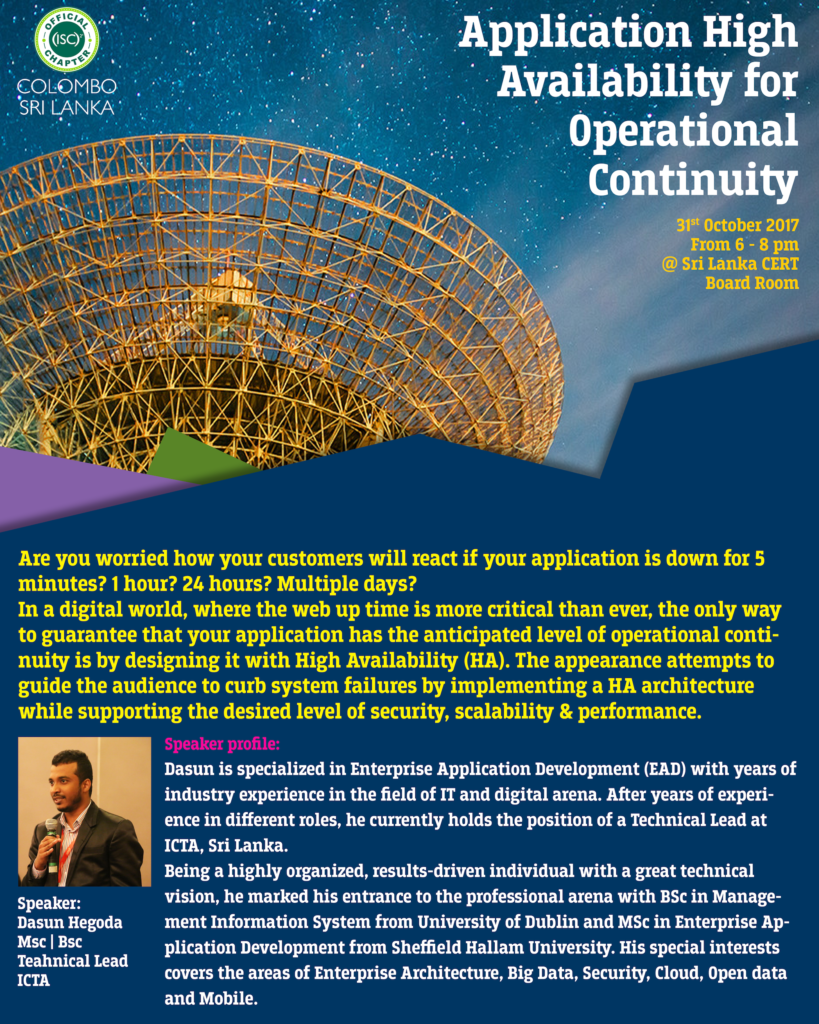 Today's blog post is fairly different from the blog posts that I have been writing. It's about a public meetup that I did which was organized by ISC2 Colombo chapter. The topic was 'Application High Availability for Operational Continuity'. No sooner the topic was selected I knew that It was an interesting topic for me and for the audience ;-)
The agenda was as follows,
Operational & Business Continuity
High-Availability Explained
Decision Criteria for High Availability
Application HA
Database HA
Big Picture – All Together
Demo
Q&A
It covered a wide range of concepts starting from what's operational continuity, the definition of HA, application HA, database HA to its implementations in details. The demo was really helpful for the audience to grab the concepts and apply them in their day-to-day lives. (I think this was one of the demos that went without an issue and I'm really happy about it. As per my experience usually, when we try to do a live demo we encounter a hell of a lot of problems).
You can refer to the below link for the presentation slides that contains all the information that was presented during the meetup.
Furthermore, these are the links which you can refer for more information (These links contain the steps that were executed during the demo).
I chose this topic because I was sure that it will be useful to the most of the industry professionals out there as resources are very less when it comes to HA. Okay, Good luck! now you may explore the beauty by yourself now. That's about it! If you have any questions, let me know in the comments below. Don't forget to give your feedback on the post (happy-face).