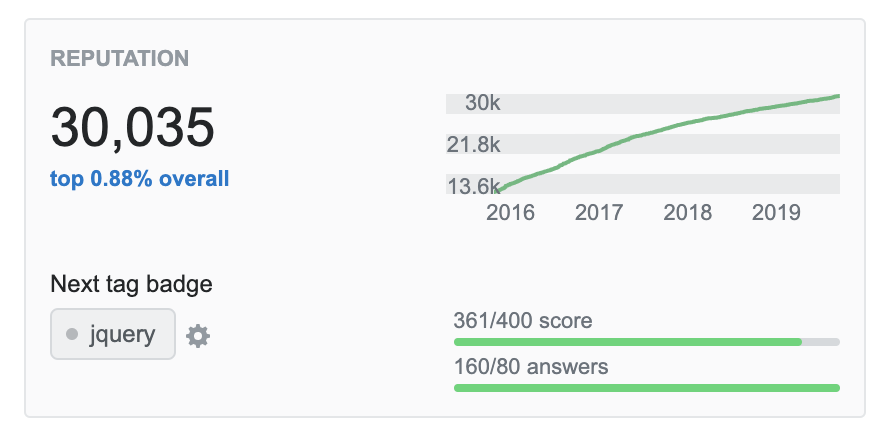 Hey developers! I feel really good because I was able to pass 30,000 reputation points on StackOverflow. It wasn't an easy task get 30K and I was working on this for 8+ years on and off.
Stack Overflow is a question and answer site for professional and enthusiast programmers. It is a privately held website, the flagship site of the Stack Exchange Network, created in 2008 by Jeff Atwood and Joel Spolsky. It features questions and answers on a wide range of topics in computer programming.
I'll tell you more…
Being a developer, for me, StackOverflow was always the place to go and sort out issues when I'm coding. It has good-hearted people who always help you out when you are stuck and I became one of them after a while. As soon as you post a question you get various types of answers to the question you have raised which leads you to think very openly and choose an answer which solves your problem. By this, mostly the same questions can be helpful the fellow developers as well.
I have more than 8M+ reach under a wide range of tags by participating where for some of the tags I have the gold badge as well. To get here writing answers was not easy on Stackoverflow since those were being reviewed by experts but it always had been fun where it led to self-development. It has been a great journey for me and planning to continue as well.
I would like to keep this blog post short and sweet. So enough bragging about myself and all that I have to say is sharing is caring. Therefore I always believe Stackoverflow will be the place to go. Long Live Stackoverflow!!!
If you have any questions, let me know in the comments below. Don't forget to give your feedback on the post (happy-face).